About Me (Don)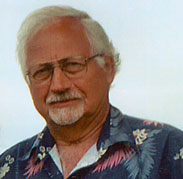 I was born and raised on a farm in Camrose, Alberta, a fourth-generation descendent of Germans from Russia. My parents immigrated to Canada in February 1927, under the sponsorship of the Missionary Society of the German Baptists of North America. My earliest childhood recollections are of stories my mother and father told me about "the old country." Nothing was of greater interest to me than hearing about the experiences of my extended family in Poland, Volhynia, Siberia, Canada and later Germany. Consequently, I have been researching my family history all my life and no wonder I became the family historian.
At age 20 I left home to attend college and seminary in the States, eventually earning a doctorate degree (D. Min. 1980) in church management and leadership. I served several churches of my German Baptist heritage in Wisconsin and Minnesota before becoming vice president of development of North American Baptist Seminary in Sioux Falls, South Dakota. I also served as vice moderator of the North American Baptist General Conference, (formerly the German Baptist Missionary Society). After returning to the pastorate, I again served a German Baptist church, and later founded Rock Creek Community Church in Portland, OR. I retired in 1992 and the following year founded Samaritan Ministries in Ukraine www.gsmukraine.com, a humanitarian organization committed to helping the poor in the very villages of my ancestral heritage.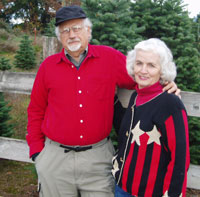 I am married to Nancy, a retired drug and alcohol counselor in the public school system. We have three children, Denny, Cheryl and Tim, and five grand children. My wife and I, own a U-Cut Christmas tree farm in the beautiful hills of historic Helvetia, outside of Hillsboro. You can check our operation out on the web: www.youcut.com. The business draws over 7,000 people to our farm each Christmas season. Nancy and I also own a Lavender Farm, which is of interest and intrigue to many people. Both businesses help support our mission projects to the poor in Ukraine.
Specialized Interests
Since I have my roots in Volhynia, I am keenly interested in the land of my forefathers. But I am especially interested in the German Baptists in Volhynia. I am the author of In the Midst of Wolves (A History of the German Baptist Movement in Volhynia, Russia) and a number of related articles. Over the years, I have gathered a considerable amount of information about the German Baptist pastors who served these churches, including pictures of them, the churches they served and their families.
I have also been the driving force behind the founding of the Volhynian Ancestral Village Adventure Tours. Each year I take a group of Germans who have their roots in Volhynia back to the land of their forefathers to help them find their villages and to research their roots. Since 1993 with the founding of the tour agency and the humanitarian organization, I have made some 25 trips to Ukraine. I have been up and down most of the village roads many times and know them like the back of my hand.
Beyond that I also have a significant interest in the repression of Germans in Russia and have written two books on the subject, Under Arrest and The Old Country. While working in the State and Regional archives, I have made many valuable discoveries, including the 1915 Expropriation List of Germans (involving some 7,000 families), the repression files of some 4,000 Germans (most of whom were imprisoned and shot) in the 1930s and the resettlement files involving another 12,000 Germans (who were exiled to Siberia and Asia), all from the Zhitomir region. All of these resources have been put on a database and made available to the general public. In addition, I have traveled to many of the towns and cities of my ancestral towns and villages, including Odessa, Moscow, Omsk, St. Petersburg and the White Sea-Baltic Canal. Also, I am a frequent contributor to the SGGEE Journal, which specializes in Germans from Eastern Europe.
Family Heritage
My family heritage includes my great-grand parents, Heinrich and Berta (?) Mueller, who emigrated from the Warsaw area to Korez in the early 1870s. Shortly after they settled in the village of Korytyszcze, approximately 20 km southwest of Novograd-Volhynsk. They later moved to Kolowert, where they died around the turn of the century. Their children included Johann, Adolph, Julius, Gustav, Michael, Emil, Wilhelm and Sofia.
My grand-parents were Michael and Helen (Kletke) Mueller. Shortly after they were married they moved to Protowka and then Alexsiejewka, near Pulin. In 1915 they were exiled to Tula, south of Moscow. A few years after their return, in the early 1930s, they lost their farm and were on the run for a number of years. Helen died in Protowka in 1932 and Michael died in 1941 in Schachawo, in the Donetsk area. They had nine children: Amelia, Lydia, Heinrich Daniel, Samuel, Eda, Ottilie, Maria and Adina.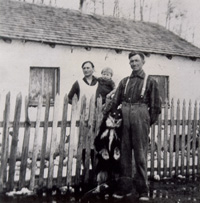 My parents are Samuel and Tusnelda (Schultz) Miller. They were the first of a number of family members to immigrate to Canada. After farming for many years, they retired in 1972 and settled in the town of Camrose. My father was killed in a traffic accident in 1986 and my mother died of a stroke in 1993. They had eight children: Gertrude, Audrey, Donald, Harvey, Violet, Mary, Melvin and Lynnette.
My extended family includes the following: Sagert, Schultz, Streichert, Kuehn, Grapentine, Eschner, Kreiger, Renz, Lange, Lamprecht, Krech, Lemke, Rosner and Hemrich. My villages of interest are Korez, Korytyszcze, Kolowert, Alexsiejewka, Pulin, Tschnerjachow, Skolobow, Neudorf, Protowka, Justinowka, Rudni, Novo Rudni, Federowka, Tortchin and Zhitomir.