Archives
INTRODUCING ALEX BRZHEZITSKYY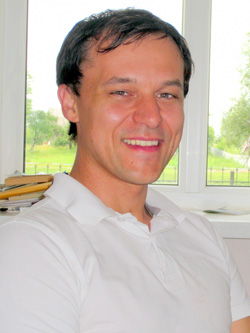 …access to the KGB files in the Zhitomir region.
Most SGGEE members are aware of the two lists of Germans, comprising some 20,000 men and women, who were repressed in the Zhitomir region in the 1930s. The lists, posted on their website under the MEMBERS ONLY section, provide a valuable source of information of persons arrested at that time. But many family members want to acquire more detail.
Now it is possible to do just that. Alex Brzhezitskyy, who was originally the "go-between" to obtain this information in the first place, is available to access the files for you. Alex has worked extensively in the State Archives for the last 10 years, assisted Don Miller with the Volhynian Village Adventure Tours, and has led a number of small group tours of Volhynia on his own. He is a university graduate with a master's degree, speaks fluent English and German, in addition to Russian and Ukrainian, and currently serves as national director of Samaritan Ministries in Ukraine, an international charitable organization committed to working among the poor and marginalized in the rural areas of Ukraine.
In 2007 Alex started his own company, called Green Tours, which specializes in providing small, customized village tours for Germans who have their roots in Volhynia, assistance with archival research, airport transfer, hotel accommodations, and translation of documents. He has also led sightseeing, rock climbing and hiking tours around Ukraine for the past several years.
You may contact Alex directly at
guaki@mail.ru
for additional information regarding his services, including costs and procedures.